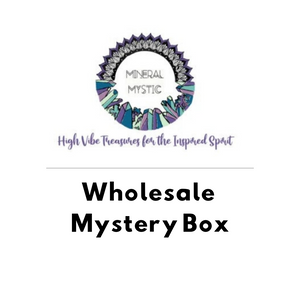 Calling all small business owners. Are you ready to add some crystal treasures to your repertoire of humble offerings?!
Here's your opportunity to receive a variety box full of hand selected crystals to offer up to your customers at wholesale prices without all of the decision-making.
Included in the box:
A minimum of 20 pieces which include several different kinds of raw, polished and carved crystals, gemstones or sacred space decor to add to your bottom line.
3-5 premium crystals considered unusual or of higher quality and the rest will be more commonly found and recognized across the industry.
Also included, a detailed list to help with identification, PLUS many crystals will already be priced for suggested retail as they have already been on my site or live sale table.
While there is no guaranteed set amount of crystals in each box, you will have the opportunity to test out a variety of price points and styles that have worked well for my shop over the last 8 years.
whether you are testing crystals out in your shop for the first time, or just looking to add some new treasures to your shop, I'm always here to help 😀 
Please message me if you have any questions or specific requests before it ships out. You may also leave comments in the notes at checkout. 
Local pickup is also available for those who live in the Denver area to save on shipping. Plus we can meet up IRL and I can answer any questions you might have. 
All items are guaranteed to be authentic and in re-saleable condition as they are items from my inventory that I am just ready to liquidate at a wholesale price.
If you are interested in curating a custom wholesale box, please feel free to message me and I'm happy to work with you.
Thank you so much for trusting me to select these wonderful treasures for you.